HEED NYC PARTNERS WITH MEXICAN ARTIST GLO MY
Posted by TAHEED WATSON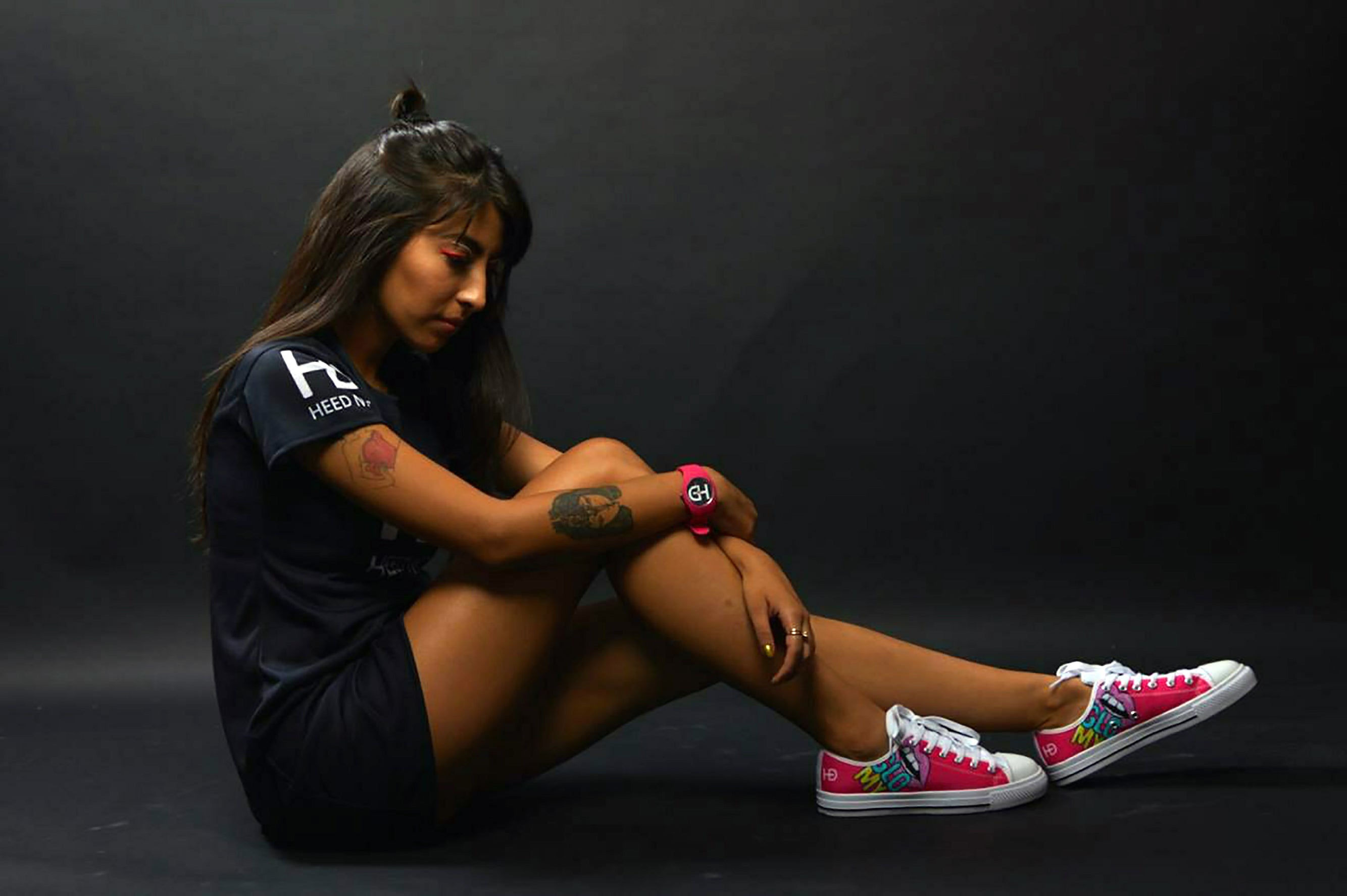 Date: August 21, 2020
HEED NYC and GLO My create a Limited Edition Fashion Collection
HEED NYC, a Manhattan NY based luxury fashion design company, has partnered with Mexican Artist, Producer and DJ "Glo My".  The two have teamed up to produce a limited edition Collection, also called "GLO MY", that includes ready-to-wear, sneakers, bags & fashion accessories inspired by the talented Artist.
Glo My born and raised in Mexico City and despite her young age has already made a name for herself in underground and big-room circuit in Mexico. The music she creates is a powerful combination of hypnotic Acid basslines, abstract textures, 90's Raves and the sensuality of House music. She has been a part of premium events such as Selenic Soul Beach and The Dream Festival and has performed in just about every major club you can name throughout the country.  In addition to performing as a DJ, she has a complete Discography of music she has produced as an Artist and has multiple collaborations with other well known artists in Mexico.  Her latest album "Cocktail" is a treasure for the spirit as she takes you down a musical journey that can only be described as epic.
"Establishing this relationship with Glo My is part of our overall vision and strategy of expanding our luxury brand worldwide. Although we are a new company, we are looking to be aggressive in establishing a global footprint with our brand by strategically aligning with local influencers that have symmetry with our vision. We understand that music is a kin to fashion through its creativity, cultural diversity, depth and individuality. It also has the ability to leave and create memorable and lasting impressions…it's this reason that building this relationship with Glo My is the perfect union"says HEED NYC Founder & Creative Director Taheed R Watson. 
Similar to music, Glo My definitely left a lasting impression on HEED NYC founder. "When I first met Glo My in Mexico City, while there on business, I instantly knew there was something about her that made her special. Though our engagement was brief there was an aurora or glow, pun totally intended, about her and I knew that one day we would work together. As an Artist, Producer and DJ she literally takes command of her audience with her talents and we feel she can be as big a star as she will allow herself to be and we look forward to taking that journey with her." 
When asked how she would describe her music, Glo My stated, "I describe my music as a quirky and idiosyncratic…I truly have an unconditional love for music and my audience. It is the reason I am really excited about this opportunity with HEED NYC. The brand and diversity aligns with my love for music and I think it's the perfect combination".
In addition, to providing the GLO MY Collection on HEED NYC's main site heednyc.com it will also be available on glomydj.com and it will offer a unique experience. Not only will customers have the ability to purchase Glo My branded apparel, accessories, bags, sneakers…but with every purchase they also will have the ability to add a select song from her Discography to their shopping cart and download and play her music on their desktop or mobile device.  "We are extremely excited to be one of few brands to form this type of union with an artist and provide this type of offering to our customers. We hope to replicate this relationship with other talented artists in the future." Taheed R Watson.
About HEED NYC
HEED NYC is a New York based luxury fashion house producing ready-to-wear, leather goods, hand bags, scarves, shoes, fragrances, eyewear, timepieces and accessories. 
Contacts:
212-641-0945
info@heednyc.com
35 W 33rd St, NY, NY 10001
IG: @heednyc
Heednyc.com
Glo MY
(55) 3402 8739
IG: @glomy000
Glomydj.com Collection 2019 Sale 70% Off Title for image